Warranty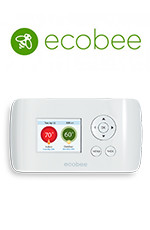 Smart Si Wi-Fi Programmable Thermostat
ON SALE - CALL FOR DETAILS
High-resolution color display.
Energy Efficient and can help save an average of 23% on energy costs.
Easy to connect and can connect with Smartphone, Tablet or Computer over Wi-Fi.
Push button control to adjust schedule or view date, time or weather outside.
Ecobee Smart Si Thermostat includes 3 year limited warranty.
Consumers Energy Management Inc. is Authorized Retailer of Ecobee Thermostats