Emerson Sensi Wi-Fi Programmable Thermostat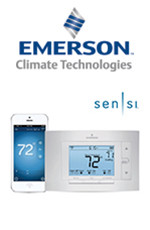 Sensi™ Wi-Fi Programmable Thermostat 1F86U-42WF
ON SALE - CALL FOR DETAILS
Easy to install with traditional wire and configure installation.
Simple to connect and can connect with Android or iOS devices over Wi-Fi.
Over-The-Air (OTA) Product Updates lets you receive the latest features like newly added alert emails and dual fuel capability.
Universal application with up to 4 heat/2 cool.
It can work without Wi-Fi as a standard thermostat.​
The Emerson Sensi™ Wi-Fi Programmable Thermostat provides total control of your home's indoor environment at your fingertips anytime and anywhere from a smartphone, tablet or PC. This programmable Wi-Fi thermostat connects to your home Wi-Fi router with the free Sensi App so you can control your home's temperature and also reduce your annual energy cost.
Consumers Energy Management Inc. is Authorized Retailer of Emerson Climate Technologies
Resources
Documentation
Video