Specification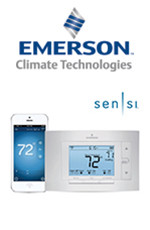 Sensi™ Wi-Fi Programmable Thermostat 1F86U-42WF
ON SALE - CALL FOR DETAILS
Easy to install with traditional wire and configure installation.
Simple to connect and can connect with Android or iOS devices over Wi-Fi.
Over-The-Air (OTA) Product Updates lets you receive the latest features like newly added alert emails and dual fuel capability.
Universal application with up to 4 heat/2 cool.
It can work without Wi-Fi as a standard thermostat.​
Terminal Designations
Dimensions
5.875″ W x 3.75″ H x 1.125″ D
Thermal Specifications
Setpoint Temperature
45° to 99° F (7° to 37° C)
Rated Differential:
Fast
Medium
Slow
Conventional
Heat
0.5°F
0.75°F
1.9°F
Cool
0.9°F
1.2°F
1.7°F
Heat Pump
Heat & Cool
9.0°F
1.2°F
1.7°F
Storage:

-20° to 150°F (-29° to 65°C)
0% – 90% RH non-condensing
Electrical Specifications Rating
20 to 30 VAC, 50/60 Hz
0.05 to 1.5 Amps (load per terminal)
2.5 Amps maximum load (all terminals combined)
Standard Systems
Single Stage gas, oil, electric
Single Stage heat pump
Multi-Stage gas, oil, electric
Multi-Stage heat pump
Accessories
Wall Plate 6-3/4″ x 4-1/2″
F61-2663
Used to cover marks left by previously installed thermostats
Thermostat Guard – Clear
Consumers Energy Management Inc. is Authorized Retailer of Emerson Climate Technologies
Resources
Documentation
Video