Nest Protect Smoke Alarm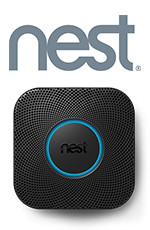 Battery or Wired Wi-Fi Smoke + Carbon Monoxide Alarm
ON SALE - CALL FOR DETAILS
Sleek Design available in two colors; Black or White.
Available in two configurations: Wired and Battery for any installation.
Built in Wi-Fi and Smart Phone enabled and will send a message to your phone if the alarm goes off.
The Nest Protect Smoke Alarm is a work of art designed for your home' safety. This Smoke Alarm can also give you a friendly Heads-Up, telling you what and where the danger is. It also connects to your smart phone as it will send you a message if the alarm is triggered.
Consumers Energy Management Inc. is Authorized Retailer of Nest Smoke Alarms