Rinnai RL94i Water Heaters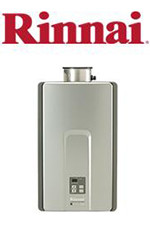 Luxury Series Tankless Water Heater
ON SALE - CALL FOR DETAILS
Energy Factor of .82 for Natural Gas and Propane and ENERGY STAR® Qualified.
To maximize energy and comfort, Built-in Rinnai Circ-LogicTM recirculation program cycles an external pump at preset intervals and temperatures.
Certified for Installation in Manufactured and Mobile Homes.
Enhanced scale detection to lessen the possibility of long-term damage to unit.
To prevent accidental or unauthorized change to water temperature, Temperature lock function is also available.
The Rinnai RL94i Tank less Water Heaters provides robust and long-lasting performance with advanced features in any residential, mobile/manufactured home or commercial application. With a tank-less design, the Rinnai Luxury Series Water Heaters provide and deliver uninterrupted convenience and comfort of hot water.
Consumers Energy Management Inc. is Authorized Retailer of Rinnai