Features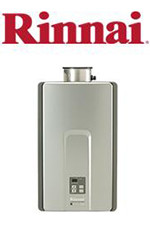 Luxury Series Tankless Water Heater
ON SALE - CALL FOR DETAILS
Energy Factor of .82 for Natural Gas and Propane and ENERGY STAR® Qualified.
To maximize energy and comfort, Built-in Rinnai Circ-LogicTM recirculation program cycles an external pump at preset intervals and temperatures.
Certified for Installation in Manufactured and Mobile Homes.
Enhanced scale detection to lessen the possibility of long-term damage to unit.
To prevent accidental or unauthorized change to water temperature, Temperature lock function is also available.
Convenient Hot Water Solution
The Rinnai Luxury Series Tank less Water Heaters deliver revolutionized comfort, convenience and energy efficiency with unlimited supply of fresh hot water at your fingertips with extended life, durability and service for any residential or commercial usage.
Energy Efficient Hot Water Solution
The Rinnai RL94i Luxury Series Tank Less Water Heaters provide environmental preservation and energy efficient cost savings with industry leading innovative technology and design. With a tank-less configuration, these water heaters provide hot water only when needed hence saving money on the energy bills whereas the traditional tank style water heaters heat and reheat water all the time.
Space Saving Water Heater
The Rinnai RL94i Luxury Series Tank-Less Water Heaters is designed and engineered with space savings in mind with the size of a carry-on suitcase. This makes this water heater to be easily mounted on any interior, exterior or space constraint area while providing fresh hot water on-demand.
Consumers Energy Management Inc. is Authorized Retailer of Rinnai