Warranty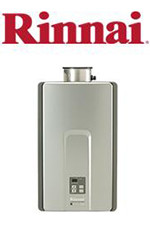 Luxury Series Tankless Water Heater
ON SALE - CALL FOR DETAILS
Energy Factor of .82 for Natural Gas and Propane and ENERGY STAR® Qualified.
To maximize energy and comfort, Built-in Rinnai Circ-LogicTM recirculation program cycles an external pump at preset intervals and temperatures.
Certified for Installation in Manufactured and Mobile Homes.
Enhanced scale detection to lessen the possibility of long-term damage to unit.
To prevent accidental or unauthorized change to water temperature, Temperature lock function is also available.
Heat exchanger with 12 years warranty for residential, 10 years for residential and space heating, and 5 years for commercial use
All other parts with a 5 years Limited Warranty
Labor with 1 year of Limited Warranty
NOTE: The Heat Exchanger Warranty is reduced to 3 years if used as a circulating water heater within a circulation loop, when the water heater is in series with a circulation system and all circulating water flows through the water heater, and where an on demand recirculation system is not incorporated
Consumers Energy Management Inc. is Authorized Retailer of Rinnai