Vanee 60H+ HRV – NEW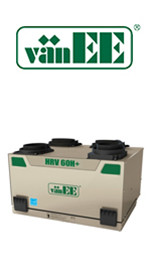 Product number: 41650 (side ports) and 41652 (top ports)
ON SALE - CALL FOR DETAILS
The new 115 CFM 60H+ HRV is HVI and ENERGY STAR® certified
Powerful, versatile and efficient unit
Small single family homes, residential towers and other small-area residences
The C12 HRV is coming with a 5-year warranty on parts
A limited lifetime warranty on the heat recovery core
The 60H+ HRV has a low profile construction for ceiling mount in closet or above hot water tank. The installation is fast and versatile, thanks the selection of vertical or horizontal ports models. The 60H+ HRV uses a unique defrosting method, that prevents ice build-up on recovery module without creating negative indoor air pressure.
Available with side ports or top ports
To learn more about wall controls compatible with this unit, please refer to the wall controls specification sheet.